Overview
Clarage offers a variety of centrifugal fans designed to tackle a wide range of applications. Whether you have a dirty, abrasive application or are looking for an ultra-efficient fan design, Clarage can provide a fan solution tailored to your exact needs. Centrifugal fans are commonly used in power generation, manufacturing and petrochemical industries just to name a few. Boiler units often require high temperature fans, where special materials are used to operate in excess of 1200°F. Some manufacturing processes require extremely high pressure and Clarage has fan designs that can achieve 200 inches of water gauge. Furthermore, the ability to design fans with inlet volume control and a variable frequency drive allow users to achieve a wide range of performance points necessary for their applications.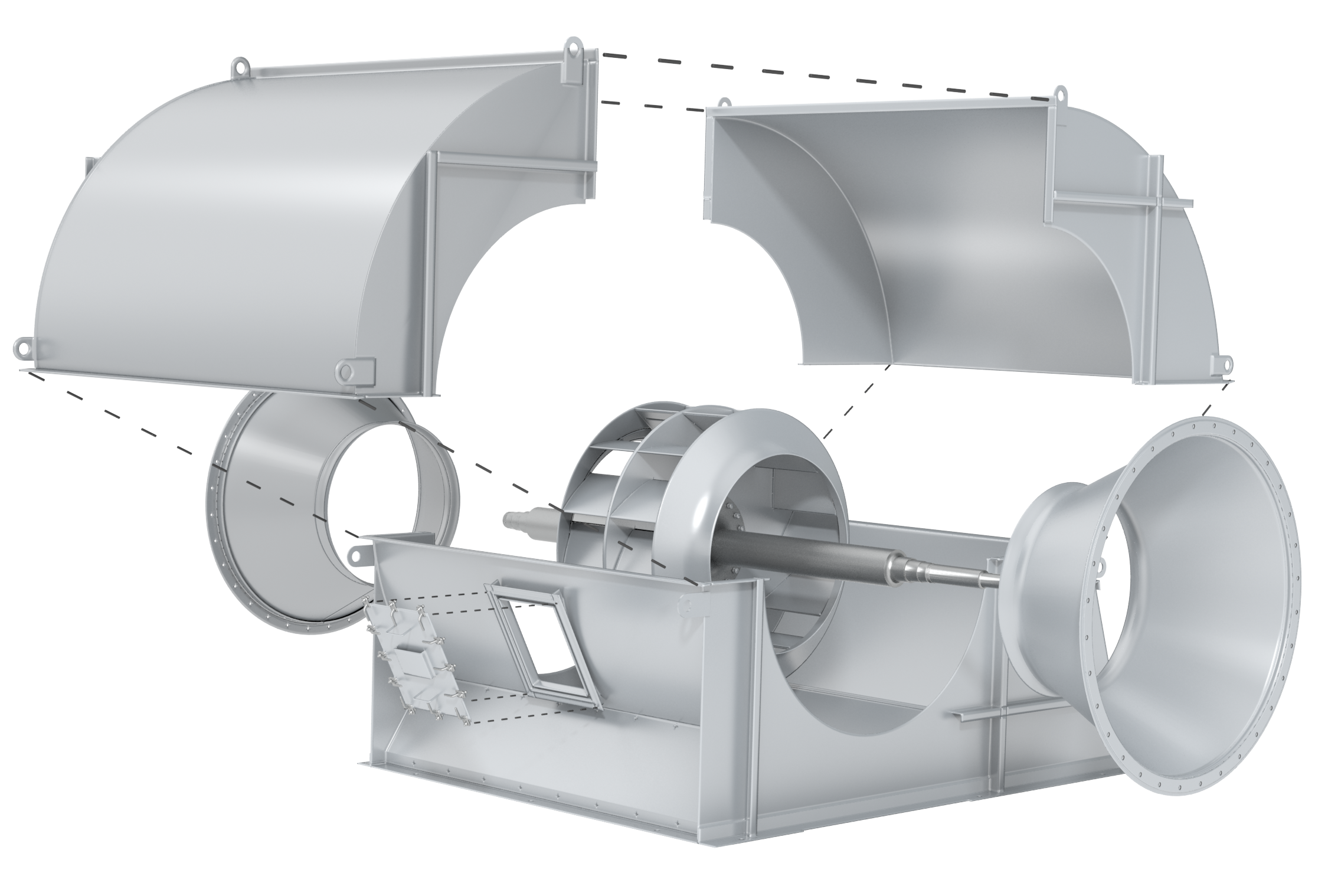 IMPELLER SIZES

Up to 160″ (4,065 mm)

AIRFLOW

SWSI Fans – Up to 900,000 CFM (1,529,100 m3/hr)
DWDI Fans – Up to 1,500,000 CFM (2,548,500 m3/hr)

STATIC PRESSURE

Single-Stage Fans – Up to 120″ w.g. (29,850 pa)
Two-Stage Fans – Up to 240″ w.g. (59,650 pa)

TEMPERATURE RANGE:

Up to 1,500°F (815°C)

Motor Sizes:

Up to 15,000 HP (11,185 KW)

Arrangements:

1, 3, 7, 8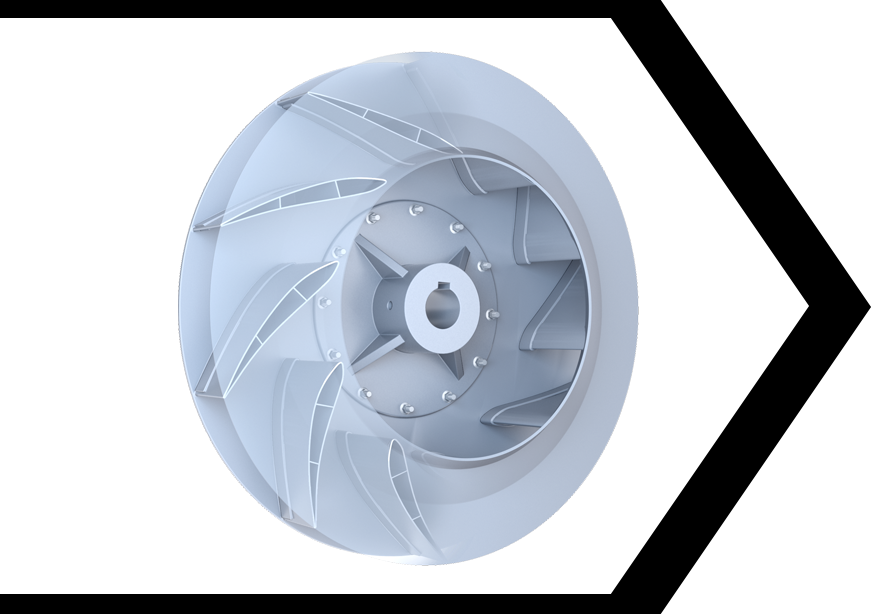 Airfoil Fans
The airfoil blade design delivers the highest static efficiencies of all centrifugal fans. The Clarage AF, AFM and RHM fan models are the perfect choice in applications requiring heavy-duty fans operating at low energy cost.
Since the Clarage airfoil fan can be used in applications where particulate is present, our design is used extensively in many different industries. A solid nose bar and blade liners can be built into each blade and provide maximum abrasion resistance along the leading edge and on high wear areas of the blade. Blades are also reinforced to meet the exact duty requirement.
The skilled craftsmen in Clarage's in-house manufacturing facility take pride in building the best airfoil fan in the industry.
best airfoil fans in the industry
HIGHEST STATIC EFFICIENCIES OF ALL CENTRIFUGAL FANS
REINFORCED BLADES
SOLID NOSE BAR AND BLADE LINERS ARE AVAILABLE TO PROVIDE MAXIMUM ABRASION RESISTANCE
Backward Curved Single Surface Airfoil
The backward curved single surface airfoil achieves static efficiencies slightly less than an Airfoil. Clarage engineers can assist you in selecting between the RHS, BCS and CHS styles to find the perfect fit to achieve your performance criteria.
Applications requiring higher static pressure impose extreme stress on the wheel components due to high tip speeds. The Clarage backward curved impeller is designed specifically to meet this challenge. When required, these fans can also be equipped with full or partial blade liners for severe-duty applications.
Clarage's unique "S" shaped blade profile delivers higher efficiencies with the ruggedness of the radial tip fan. Typical applications include coal-fired boilers, electric arc furnaces and cement kilns.
DESIGNED SPECIFICALLY FOR APPLICATIONS REQUIRING HIGH STATIC PRESSURE
FULL BLADE AND HOUSING LINERS AVAILABLE FOR SEVERE DUTY APPLICATIONS
HARD SURFACE WELD BEADS ARE ADDED TO BREAK UP ABRASIVE DUST PATTERNS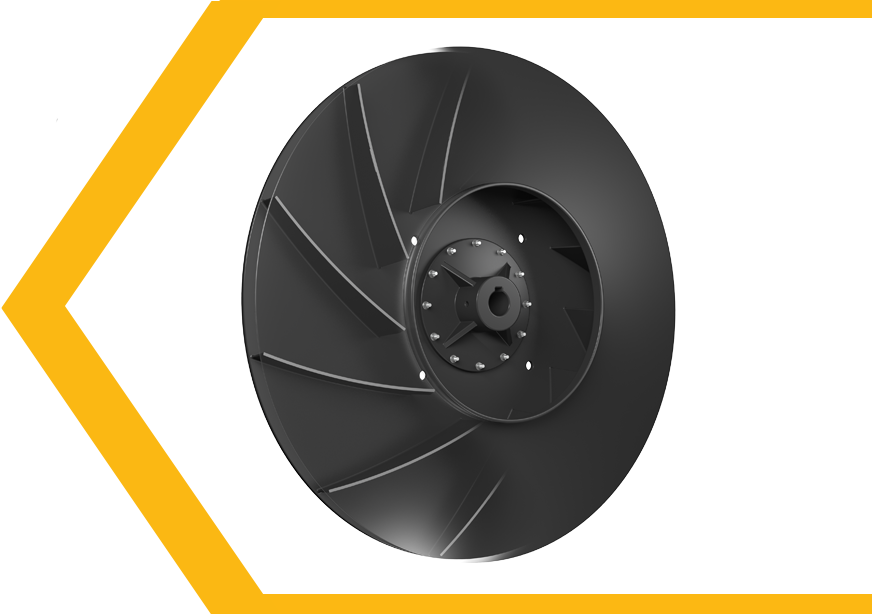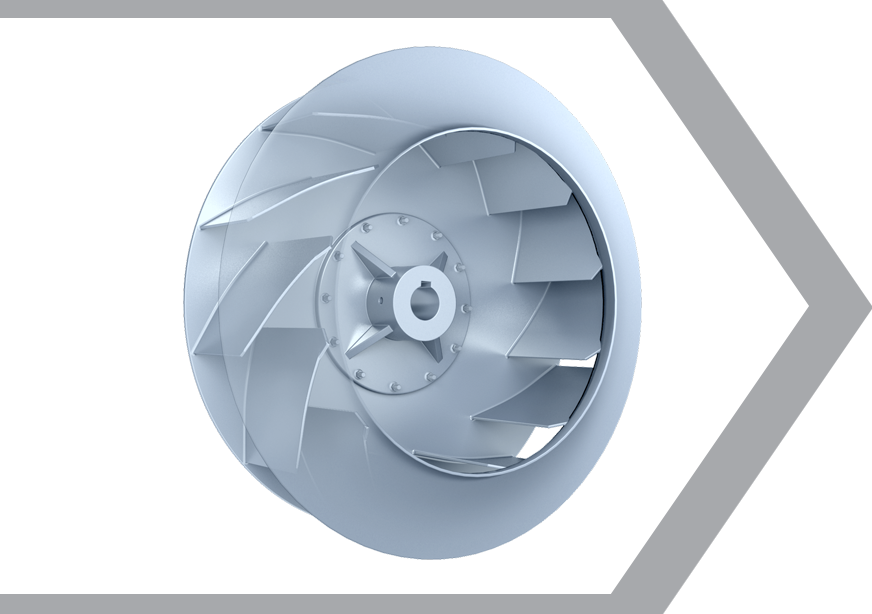 Backward Inclined
The Backward Inclined BIM fan is a straight bladed design that is ideally suited for clean and abrasive airstreams. The high wear and abrasive nature of induced draft and kiln dryer fans can wear the blades of a fan very quickly. The backward inclined design sheds particulate and can be designed with high brinel wear liners to prevent erosion of the impeller.
Clarage's custom engineered backward inclined fan model BIM can achieve the highest levels of efficiency, and are perfect for high static pressure applications. Whether you are exhausting high temperature, dirty or corrosive gases, we can design the fan at the peak of efficiency to meet your needs.
DESIGNED TO SHED PARTICULATES, SUCH AS DUST, IN THE AIRSTREAM
SUITED FOR BOTH CLEAN AND DIRTY AIRSTREAMS
GREAT FOR ALL TEMPERATURES
Modified Radial
The Clarage HMF modified radial impeller design is a slightly backward inclined shrouded radial. It combines the best of the Radial design with the efficiency of the BI design. A slight backward incline to the blades combined with the radial blade design makes it the best solution for dirty or particulate-laden airstreams.
Designed for coal conveying, the HMF is available with blade liners for wear protection and a variety of specific speeds to meet all design requirements. Whether you are conveying pulverized coal, sand or steel sinter, the HMF can stand up to the toughest environments.
HIGH EFFICIENCY DESIGN IDEALLY SUITED FOR MATERIAL HANDLING
DESIGNED TO WITHSTAND THE MOST DEMANDING ENVIRONMENTS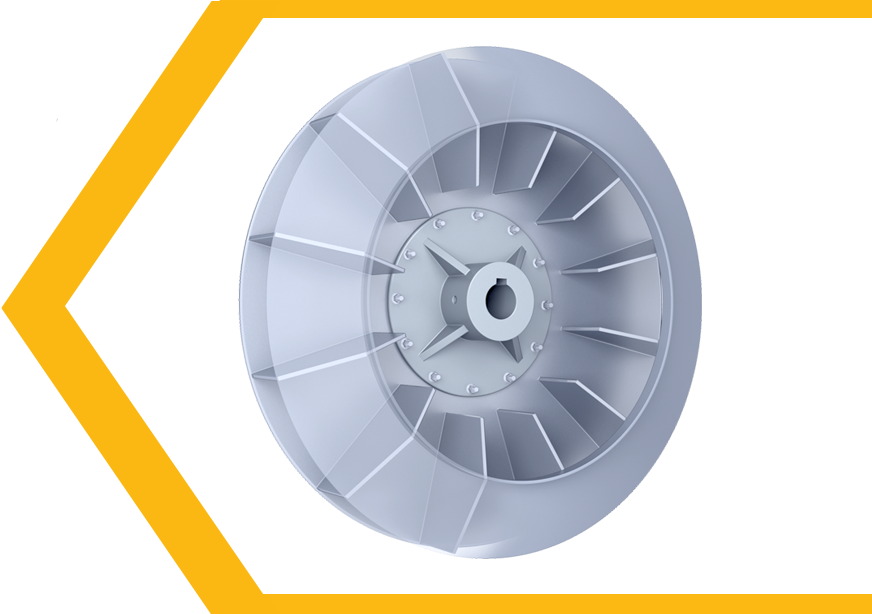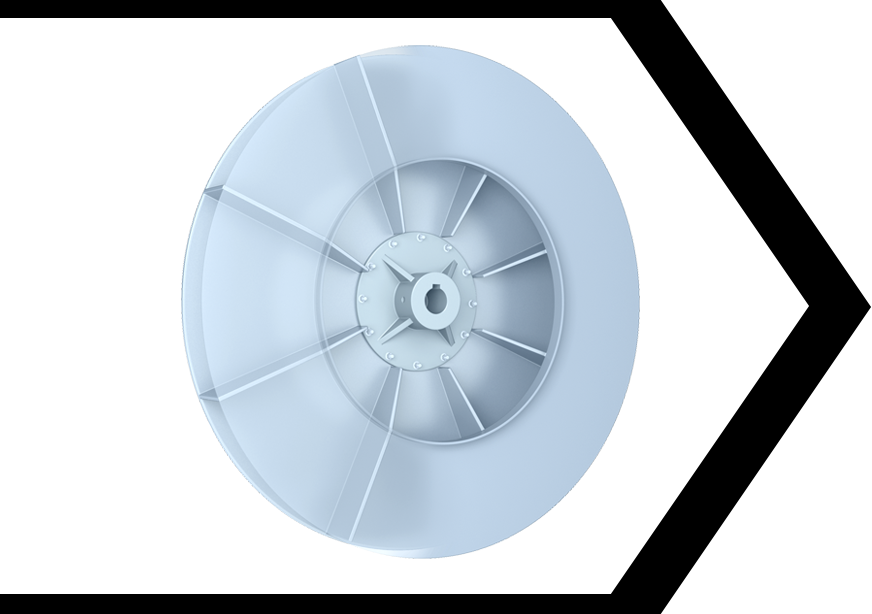 Radial Blade
The Clarage radial blade XLR fan is the first choice for severe-duty applications, especially those involving hot, abrasive or sticky particulate. The flat radial blade design is self-cleaning, which makes it very cost-effective by reducing downtime in critical and continuous service applications. Clarage's radial blade fan is designed to sustain very high tip speeds to meet your high static pressure needs.
FIRST CHOICE FOR SEVERE-DUTY APPLICATIONS
SELF-CLEANING FLAT RADIAL BLADE DESIGN
SUSTAINS VERY HIGH TIP SPEEDS TO MEET HIGH STATIC PRESSURE NEEDS
Radial Tip
Clarage radial tip fans are used extensively in many industries. The ruggedness of our RT and RTC radial tip impeller makes it especially suitable in severe-duty service areas, such as cement plants, flue gas recirculation and boiler induced draft fans. It can be armored with full blade and housing liners for the most abrasive applications.
RUGGED DESIGN MAKES IT SUITABLE FOR SEVERE DUTY SERVICE AREAS
FULL BLADE AND HOUSING LINERS ARE AVAILABLE FOR THE MOST ABRASIVE APPLICATIONS